Presidential residence moved to to the old venue
On 2 March President of Armenia Armen Sarkissian published a photo in his Instagram page calling it "the last working day at Mashtots 47".  President Sarkissian's residence was again moved to Baghramyan 26 from Mashtots 47.  This decision was adopted still in November of the last year. The residence of the Prime Minister from Baghramyan 26 will be moved to the Government House 1 in Republic Square. The Prime Minister's residence was here until the third president of Armenia, Serzh Sargsyan became Prime Minister and moved his residence to Baghramyan 26 where he worked during last 10 years as a president of Armenia.
Criminal Case on the incident of "Re-start" members
An incident took place between the former adviser to the Chief of Police and some members of the "Re-start"initiative after the midnight of March 4. Initiative member Davit Petrosyan who was also involved in the incident, made a video announcement on Facebook stating that their aim was to throw Malyan to the trash. The latter also stated by video that he was attacked and an attempt was made to kidnap him, but police officers prevented it in time.
Prosecuter's Office filed a criminal case. Narek Malyan was recognized as victim, and a signature bond to not leave was selected as a preventive measure for the incident members.
The incident between the members of the "Re-start" Student Initiative and Malyan took place after Malyan had expressed negative attitudes towards individuals or organizations which got grants from "Open Society Foundations – Armenia". He accused them of anti-Armenian initiatives. "Re-Start" Student Initiative also got a grant from that fund. In response to similar statements, the fund's management stated that grants were provided to many individuals and organizations , including state universities. For example Yerevan State University received US$664000 from this Foundation.
Corruption-related Criminal Cases Increased
According to the data of the Prosecutor General's Office, in 2018 corruption-related criminal cases increased by 3.6 times in comparison with those in the last year.  In 2018, 960 individuals were prosecuted for corruption cases, 470 out of which were officials or public servants.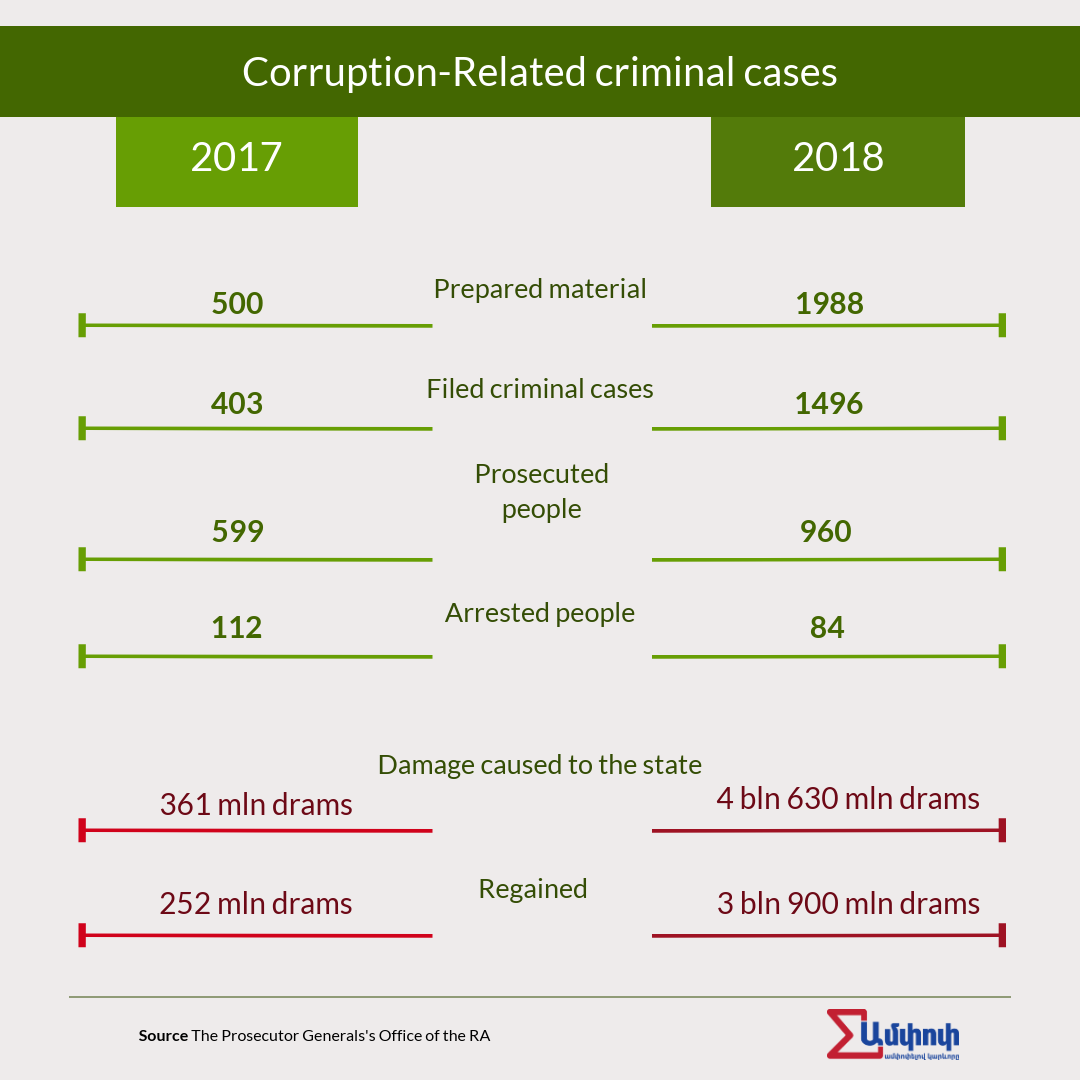 Changes in the adopted two laws of NA
According to the unanimously adopted law on 6 March during the parliamentary session, anyone aged 27 escaping from compulsory military service may pay 200 times more than the minimum wage is (200,000 drams) for each conscription and be released from criminal prosecution. The law expires on December 1, 2017 instead of 2017, March 1.
On the same day NA fully adopted the draft law "On Making Amendments to the RA Law on Education," by which students got the opportunity to pay their tuition fees on a monthly basis, instead of the former, semi-annual payments.
Drivers' Strike
On 7 March 250 bus drivers of Yerevan announced a strike because of the cameras which were going to be installed in buses.
The dissatisfaction of the drivers was caused by the cameras installed in the two buses of the "Yerevan bus" CJSC. The 100% shareholder of this company is Yerevan Manucipality. According to it, the cameras were installed in order to improve the service quality.
Journalistic investigation of Troika Dialog
Organized Crime and Corruption Reporting Project (OCCRP), as a result of his journalistic investigation found out that the "Troika Dialog" company founded by Russia-based philanthropist and businessman Armen Vardanyan, was involved in corruption schemes and about $9bln was laundered.
According to the investigation, the company founded by Ruben Vardanyan, created more than 70 offshore shell companies. Through this network, wealthy Russians had the opportunity to hide their property and avoid taxes.
For the fake contratcs the signatures of Armenian migrant workers were used. They were not aware of it.
It is stated that some key companies of "Troika Laundromat" made transfers to a number of Armenian bank, individual and copmany accounts. Till 2012 Ruben Vardanyan was the main shareholder of "Troika Dialog" (40%).  On the financial basis of "Troika Dialog" "Sberbank" was formed.  Ruben Vardanyan is currently the co-chair of the latter.
In his turn Vardanyan announced that "in the published materials everything is confused, information taken completely out of context, interpretations and pure inventions", and assured that nothing will stop him from implementing his plans.
"Today we continue to implement commercial, social entrepreneurship and charitable projects, guided by the same goal and conviction. The Moscow School of Management SKOLKOVO in Russia, the UWC Dilijan College in Armenia, and especially the Aurora Humanitarian Initiative – all of them serve to unite people in a world where, regrettably, many still live in a "friend or foe" mindset," it is stated in the shared announcement of Vardanyan.
Ampop Media
Translated by Mary Grigoryan
For Armenian original CLICK HERE
© The copyright of stories and visualizations on Ampop.am belongs to "Journalists for the Future" NGO. It is forbidden to use Ampop's content and images without active hyperlinks to the source website. Uploading of infographics and images of Ampop.am is possible only in case of an agreement reached with JFF.