10,5 млн — столько людей были вынужденно перемещены в пределах Украины или за границу только за месяц после начала полномасштабной войны, развязанной Россией в этой стране 24 февраля 2022 года. По состоянию на ноябрь того же года ООН зафиксировала более 15,8 млн. случаев пересечения границ Украины.
В ноябре в Европе зафиксировали 7,9 млн вынужденных переселенцев из Украины. При этом Молдова приняла самое большое число переселенцев из Украины по отношению к собственному населению – 570 тысяч человек, около 80 тысяч из которых остались в этой стране. Ситуация с украинскими переселенцами в Армении сильно отличается от той, которая сложилась в странах ЕС или в Молдове, но она тоже заслуживает внимания.
Большинство переселенцев из Украины – женщины и дети, которые зачастую оказались в чужих городах и странах совсем одни. Многим из них повезло встретить людей, которые дали им приют и помощь. Но нередки случаи, когда украинки в силу своей уязвимости попадают в опасные ситуации.
Представляем Вам спецпроект, подготовленный журналистами армянского портала «Ampop Media», молдавского портала «BAStv» и украинского агентства ИНА «Українські Новини», про женщин из Украины, которые оказались на чужбине из-за войны, развязанной против их страны, про их финансовые и психологические проблемы, с которыми они сталкиваются каждый день, и про то, как они преодолевают трудности, веря в лучшее будущее для себя, своих близких и своей страны.
Нажмите на картинку, чтобы перейти к просмотру проекта.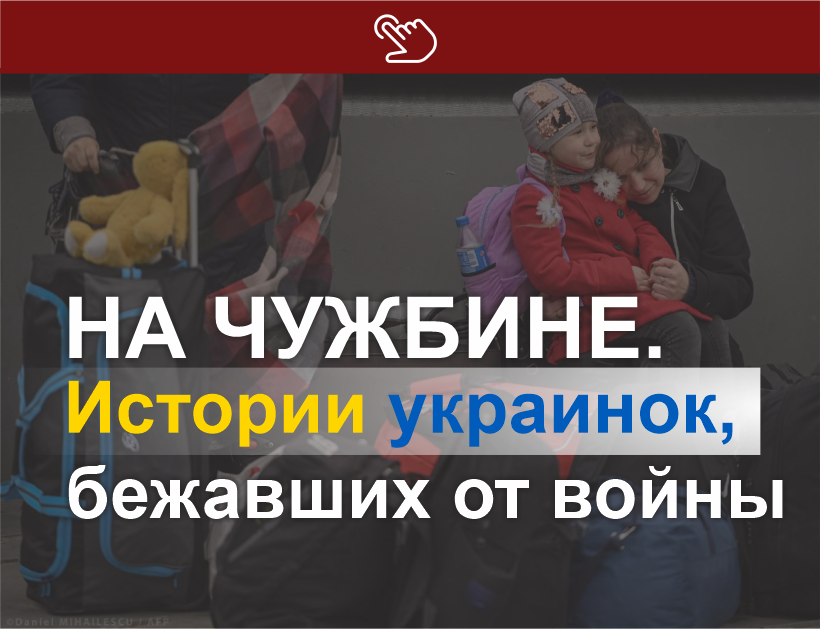 Материал выпущен в рамках проекта Women Investigative Journalists Network при содействии IMS, RPDI, Studio Monitore, Media Initiatives Center, Centrul de Investigatii Journalistice. Мнения и точки зрения, выраженные в материале, принадлежат авторам каждой отдельной части мультимедийного проекта и никоим образом не могут считаться отражением официальной позиции IMS и ее партнеров. 
More articles about #WarInUkraine
© All the stories, infographics and other visuals bearing the Ampop Media logo is possible to publish on other audiovisual platforms only in case of an agreement reached with Ampop Media and/or JFF.