The influx of people to Armenia from Ukraine has increased since the Russian-Ukrainian war began in February 2022. Among them are both citizens of Ukraine and hundreds of citizens of the RA who have moved there during the last three decades.
Some of them have preserved their citizenship, while others have obtained dual citizenship. Yet, regardless of nationality or ethnic group they belong to, these people fleeing from the war zone are now in Armenia, where they expect to receive the country's support.
Emergency assistance is especially needed for those having chronic diseases and need medical intervention.
In Armenia, refugees and asylum-seekers have the right of using state-funded primary healthcare services rendered to them for free.
Ampop Media published the multimedia with the title "On the Way of Migration: Stories of Ukrainian Women Fled from the War" in last December. This time we spoke to people displaced from Ukraine and the representatives of the organizations in Armenia supporting them, to figure out whether Armenia fulfills its obligations.
Situation
According to the data of the Migration and Citizenship Service by the Ministry of Internal Affairs, half of the asylum-seekers (484 people) who applied for the status in 2022, were from Ukraine.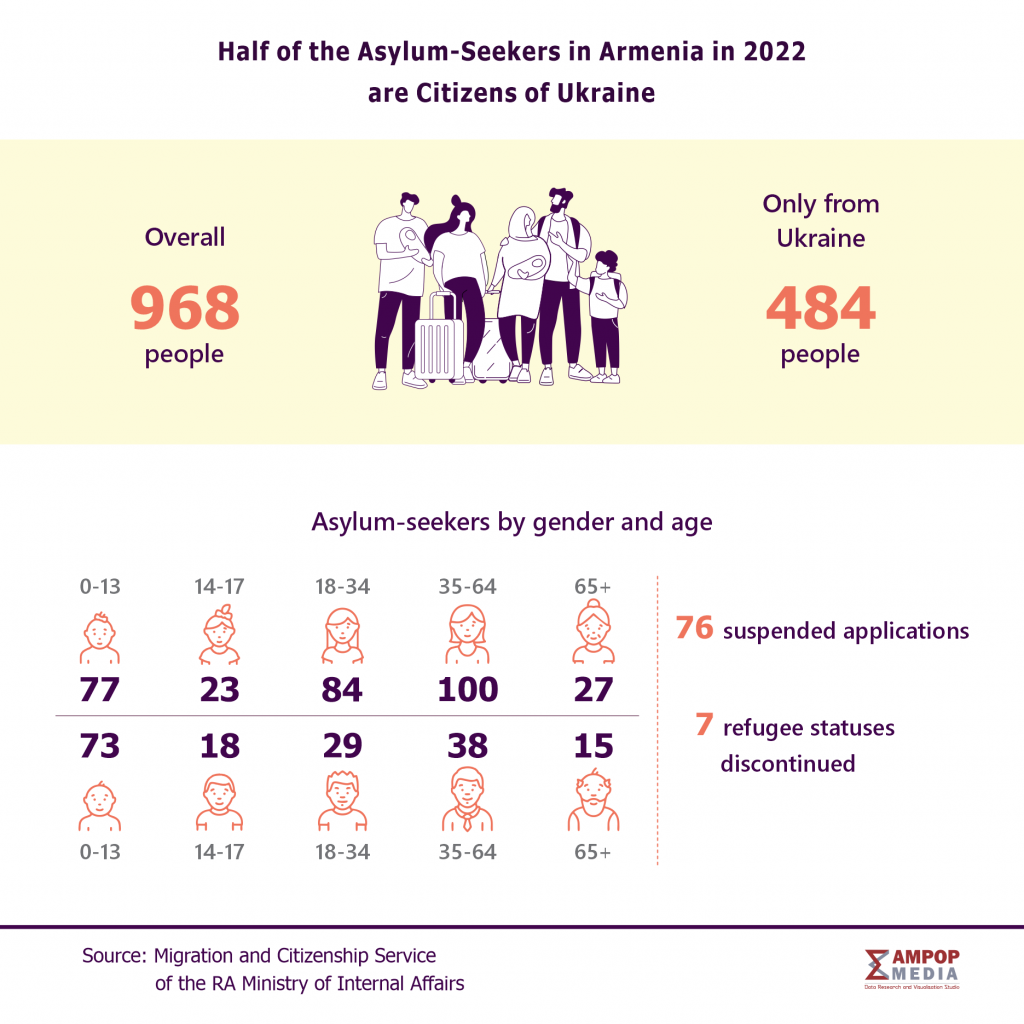 Aida Stepanchuk is one of them.
Aida moved to Armenia months after the Russian-Ukrainian war began, when it became clear that the war was going to last, and her health was deteriorating day after day due to the never-ending stress. After moving to Vanadzor with her mother and youngest son, Aida found out that the medication she had to take twice a day cannot be found in Armenian pharmacies.
"I have an epilepsy and for more than 15 years I have been taking 'Finlepsin retard' twice a day – in the morning and in the evening. I really cannot imagine what will happen to me without it. The medication was already unavailable in pharmacies when arrived in Armenia. I was told it was imported from Poland but the war caused logistic problems and they have not been able to continue the imports for some time now," Aida told Ampop Media.
Before this medication reappeared in Armenian pharmacies, it was Aida's friends who purchased it from Georgia and sent it to her.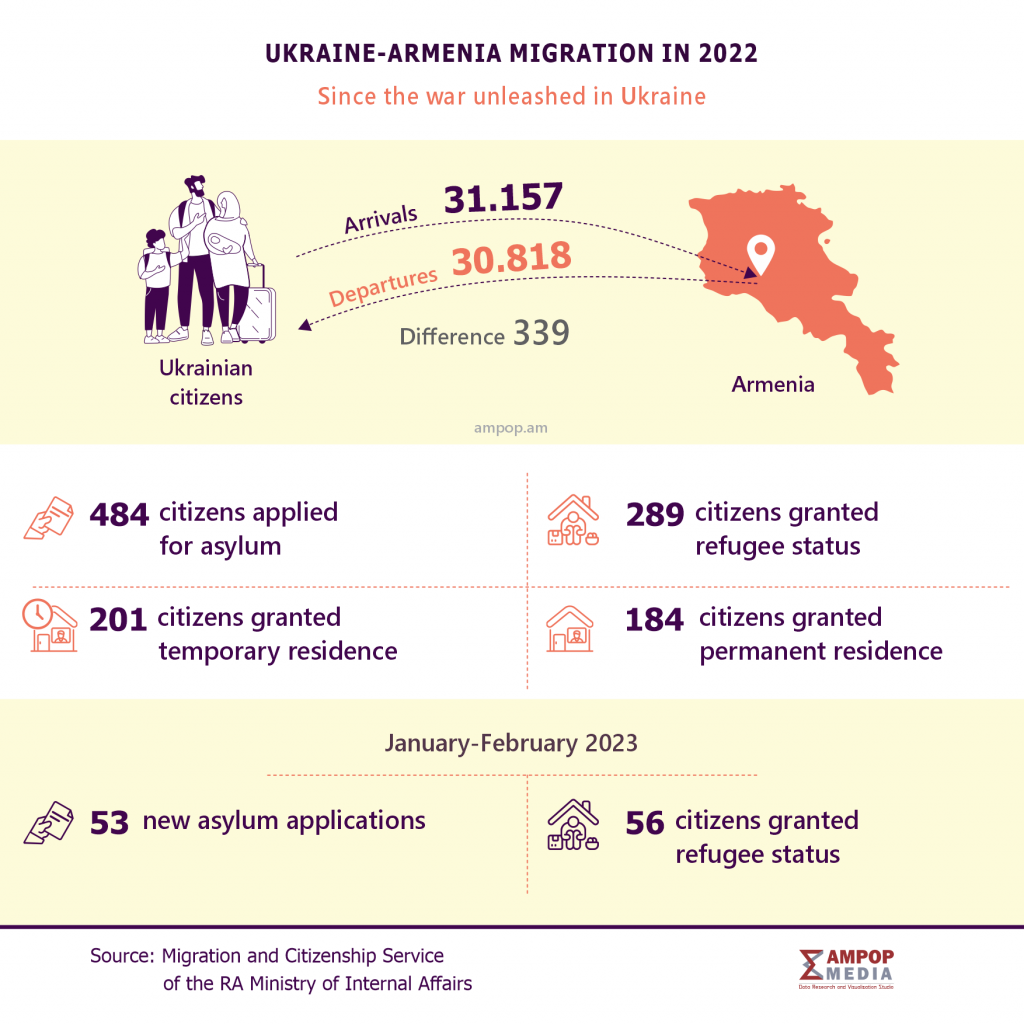 Aida who holds a dual citizenship of Armenia and Ukraine learnt she could get the medication from polyclinics free of charge, both as a citizen of the RA and also as a person with disability. After completing the required procedure that includes registering at a polyclinic, Aida met the district doctor in order to get "Finlepsin Retard"; but to her surprise, she was refused, being told that medication was not included in the list of drugs provided by the Ministry of Health for free.
According to the Annex 2 of the RA Government decision N 642 adopted on 30 May 2019, medications for a number of illnesses, including epilepsy, are provided with full remuneration of their price. Yet, there is another decision listed the medications, which are provided free of charge or with partial compensation, and it misses the "Finlepsin retard" much needed for Aida.
"There, I was informed they can only provide me with the medications included in the list and suggested trying a substitute, which I refused. I've tried other medications several times, but my condition worsened, so I decided not to take the risk," Stepanchuk explains.
Finding it better not to take the risk, Aida renewed her searches of "Finlepsin Retard" in Armenian pharmacies, including Vanadzor. Even though the price became 2-3 times higher, she was indescribably happy finding on shop-windows the medication without which she cannot imagine a single day of her day.
Being included in a vulnerable group didn't help Aida either when Magnetic Resonance Imaging (MRI) of brain was needed.
"I regularly had that examination in Ukraine. It was time for the regular one when the war broke out. We came to Armenia and I decided to pass it here, but at the polyclinic where I was registered, I was told that I had to request an appointment first, then – that I couldn't do it free of charge, because of a medical pension, which I received in Ukraine," Aida explains.
As she didn't succeed in getting an MRI, she turned to a private clinic. Once again, her friends came to her aid, undertaking all the expenses.
One of the mandatory conditions of free examination, the Ministry of Health notified Ampop Media, is a doctor's referral specifying the reason why that examination is necessary.
The procedure "On making appointments for state-guaranteed free and privileged health care services" also defines the cases it is provided as an emergency:
The patient can be provided with emergency medical care if there are relevant medical indications. Such decisions are made by a commission consisting of appropriate specialists.
In Armenia, refugees and asylum-seekers receive state funded medical care in the first place from the doctor of the medical institution they've chosen and registered in the prescribed manner. But the stories come to prove that even the registration is a time-consuming and not an easy process for those in need of medical care.
Juliette Shvetsova, who moved from Kharkiv, Ukraine, to Yerevan in October 2022, told Ampop Media that she has faced the same problems regarding registration at a polyclinic.
"My husband, our three children and I, we went to the nearest polyclinic, filled in the application with our social security cards to get registered, but there has been no progress so far. Whenever I am calling to ask whether we can already make use of the services, I receive the same answer – your application is sent to the ministry, there is still no response, you have to wait," says Juliette, a citizen of Ukraine.
Asylum-seeker identification document is issued for three months. In case the Migration service doesn't deliver a decision with regard to asylum application, the validity period of the card is extended for another three months.
It's worth mentioning that an asylum-seeker is considered to be a potential beneficiary as long as s/he doesn't have the relevant document, that is, the identification card, which is issued in the prescribed manner within 3 working days after application to the Migration Service.
Tatyana Dashyan, the leader of the social services team of the "Mission Armenia" charitable organization, told Ampop Media that people with an asylum-seeker's identification document have been refused of free services at polyclinics many times.
"Oftentimes polyclinics aren't even aware these people have the right to be treated free of charge as established by law. Our social workers accompany these people once they apply to us, and the problem gets solved. It's necessary to spread awareness," Dashyan says.
"Dopomoga" established in Armenia by Ukrainian community, and "Etos" established by Russians who moved to Armenia in 2022, help asylum-seekers and those who have already received refugee status in acquiring the necessary medication and urgent interventions (not prescribed by law).
These organizations have created special Telegram accounts where they've been setting up donations in an emergency mode and informing about what the displaced Ukrainian people living in Armenia need. Most often, the donations are organized for medication or medical services for specific people. Some of them are represented below.
Ampop Media applied to the Yerevan Municipality in order to get some information on the obstacles of the process.
Taron Gevorgyan, deputy head of the Information Department, referring to the first annex of the RA Government's decision N 318, considered the provision of medical care to asylum-seekers in the prescribed manner to be of high priority and promised to be consistent so that the right of any beneficiary to use health care services is not violated.
"We haven't received any notice on hotline that they refused to provide services free of charge, but to prevent those cases on the whole we'll once again send as a reminder all the polyclinics in Armenia the Government's decision N 318, which regulates asylum-seekers rights as well," Taron Gevorgyan told Ampop Media.
Those who renounced the RA citizenship are left up in the air…
Unlike legal regulations for asylum-seekers and refugees in Armenia, there is little for former nationals of Armenia, currently repatriating to the country.
Tatyana Dashyan, the representative of the "Mission Armenia", says that there is a great number of people turning to the mission in search of support. Unfortunately, the representative says, there is little the organization can do for them, for these people fall beyond its beneficiary groups.
Ampop Media tried to find out from the office of the Commissioner for Diaspora Affairs what the country is doing to support them in case of health problems. In the response to our written request, it was clearly stated that our compatriots, who have renounced the RA citizenship, can make use of health services on a paid basis.
By Lilit Poghosyan
Infographics by Anush Baghdasaryan
More articles about #WarInUkraine
The following publications were produced as part of the project Online journalism, in-depth, which is funded by the German Federal Ministry for Economic Cooperation and Development (BMZ). The views expressed in these publications are those of the independent authors and do not necessarily reflect those of the BMZ.
© All the stories, infographics and other visuals bearing the Ampop Media logo is possible to publish on other audiovisual platforms only in case of an agreement reached with Ampop Media and/or JFF.