During the first quarter of 2019, 33 cases of juvenile violence were registered, 10 out of which were cases of physical violence, according to the representative of the RA Police. The number of crimes against sexual freedom and sexual immunity makes 14.
During the same period of time, 62 juvenile cases were registered. The police source reports that in both cases decrease of incidents is noted, unlike the same period of 2018. However cases of theft committed by juvenile increased for the same period of time.
The Investigative Committee summed up first quarter of 2019
The Investigative Committee of the Republic of Armenia examined more than 10 thousand cases in the first quarter of 2019. 11 cases out of 14 investigated cases of murder and attempted murder during the current year were revealed. 114 defendants were conscripted to the Armed Forces because of the evasion from mandatory military service.
The Investigative Committee also examined 720 criminal cases of corruption. 76% or 277 people out of the involved ones were officials. The appointment of 36 accused people has been temporarily suspended.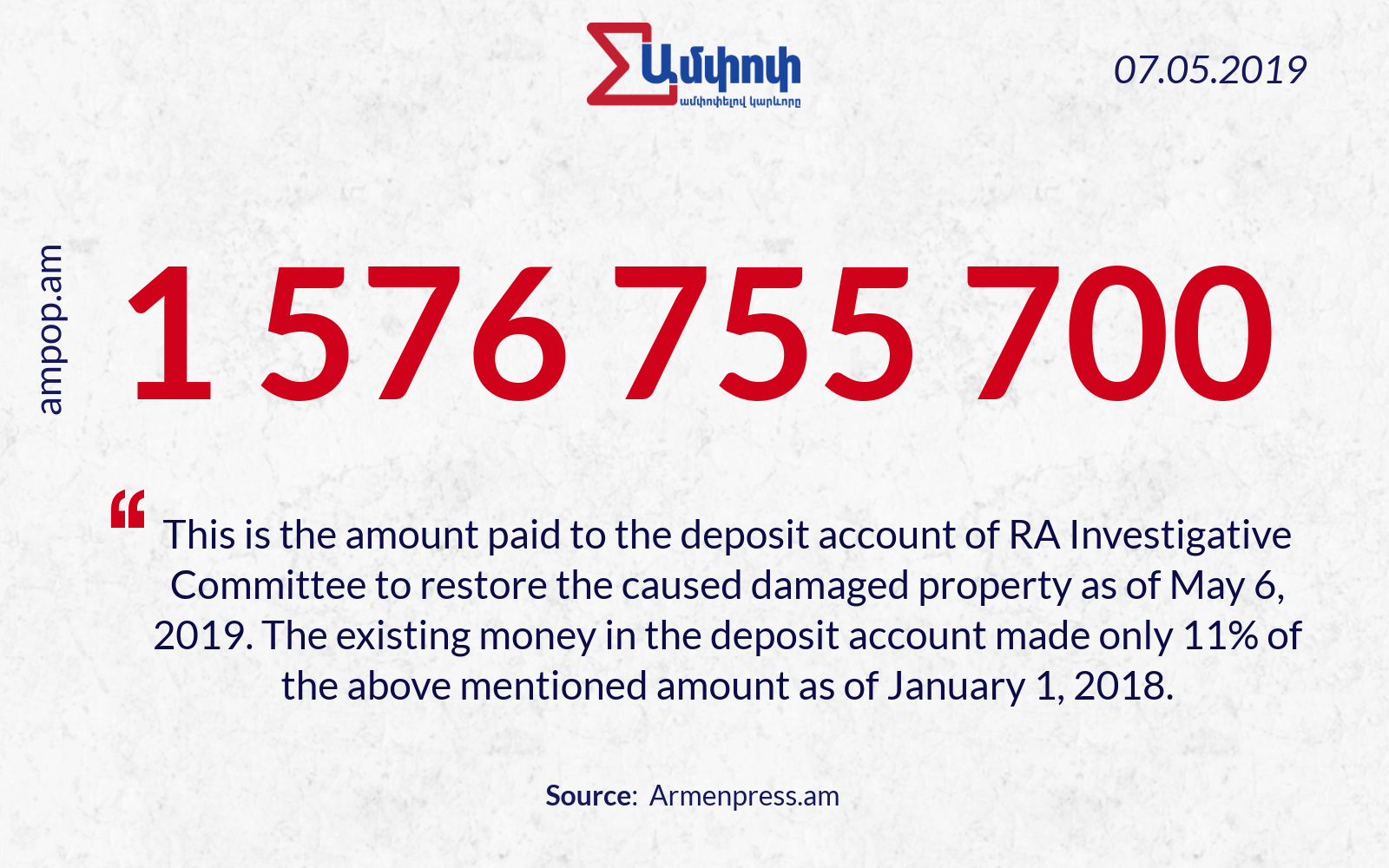 News from the National Assembly
The National Assembly fully adopted the draft law to amend structure of the RA Government in the second reading. New structure of the Government is presented here.
The National Assembly adopted a law prohibiting sales promotion of essays, term papers, thesis and research works. A fine of 100,000 AMD is set for those who will break the law. Amendments were made to the law "On remuneration of officials" on the basis of the RA Government configurations.
Press Conference of Prime Minister Pashinyan
On May 8, Nikol Pashinyan hold a press conference on his annual activity as Prime Minister (PM). Pashinyan's introductory remarks presented 100 facts about the achievements of the RA over 1 year of his governance. PM replied to about 60 questions during the press conference lasting 5 hours and a half. He stated that 51 thousand jobs were taken out of the shadow and the state budget will have excess of 62 bln drams in 2019. He also mentioned that changes were made in diet of military units and combat positions, murder cases decreased in the country and so on.
Translated by Mary Grigoryan
Ampop Media
For Armenian original CLICK HERE
© The copyright of stories and visualizations on Ampop.am belongs to "Journalists for the Future" NGO. It is forbidden to use Ampop's content and images without active hyperlinks to the source website. Uploading of infographics and images of Ampop.am is possible only in case of an agreement reached with JFF.