The cost of flights from Armenia still stay high compared to that from the neighboring Georgia, in spite of the fact that both countries have adopted the open skies policy.
The infographic states that cost of flights from Yerevan are 8-40% higher than that from Tbilisi. And this is in the case when price of those airplane-tickets are compared which have the same luggage and flight duration.
One of the reasons for the increase of flight prices is the state fee of 10.000 drams set by the law, included in the cost of airplane-tickets. It is for the exit of individuals from Yerevan by air. However, the fee is not applied, e.g., for children under 12 years old, transit passengers, veterans of the Great Patriotic War and their relatives.
Aviation fuel prices have a great influence on airplane-ticket pricing. This is noted in the statement of RA State Commission for the Protection of Economic Competition (SCPEC) shared on March. However, SCPEC grounds it by transportation of aviation fuel in Georgia, noting that it is carried out by Georgian railway. According to SCPEC, the latter is cooperating with limited companies at its disposal.
The SCPEC statement runs, "As a result, all those companies, wishing to deal with importing of aviation fuel, do not get the opportunity to make delivery for the Armenian market, as, basically, there is no economic transfer except for the Georgian Railway."
Though SCPEC statement runs that only "Zvartnots" international airport is importing aviation fuel, Ampop Media  has sent a request to RA State Revenue Committee (SRC) to clarify the number of legal entities importing aviation fuel into Armenia and the volume of imported aviation fuel during 2017- 2018.
According to the data of SRC, 5 companies imported aviation fuel into Armenia during the mentioned time period, but there is no separation which companies imported it for civil aviation. Anyhow, dynamic of imported fuel is vivid from the infographic based on the delivered data.
Open Skies Policy 
Decision on the program providing State's competitive and sustainable air transportation was made 6 years ago – in November, 2013. And the open sky policy was invested in Armenia by this decision which aims at increasing attractiveness of Armenia for foreign airlines. The decision runs that introduction of open skies policy will positively effect on the number of incoming tourists, greater circulation of airlines at the airport, as well as on business circles by providing more favorable business communication conditions.
By the way, it is noted that as a result of open sky policy investment, the following was expected: both providing of extra GDP up to US$400 mln, and at least 10% reduction of average airplane-ticket prices, and creation of up to 23.000 new workplaces in the field of aeronautics and tourism, as well as 20-25% growth in passenger transportation.
From the mentioned above, only the last index seems to have come into life. According to the data of RA Statistical Committee, volume of air passenger transportation increased by about 33% as compared with 2014. But whether it is due to open skies policy or a number of developments in the social and political life of the country during those years?…
It is worth mentioning that in 2015, decrease of air passenger transportation is registered in the case when nationwide events were organized that year dedicated to the 100th anniversary of the Armenian Genocide.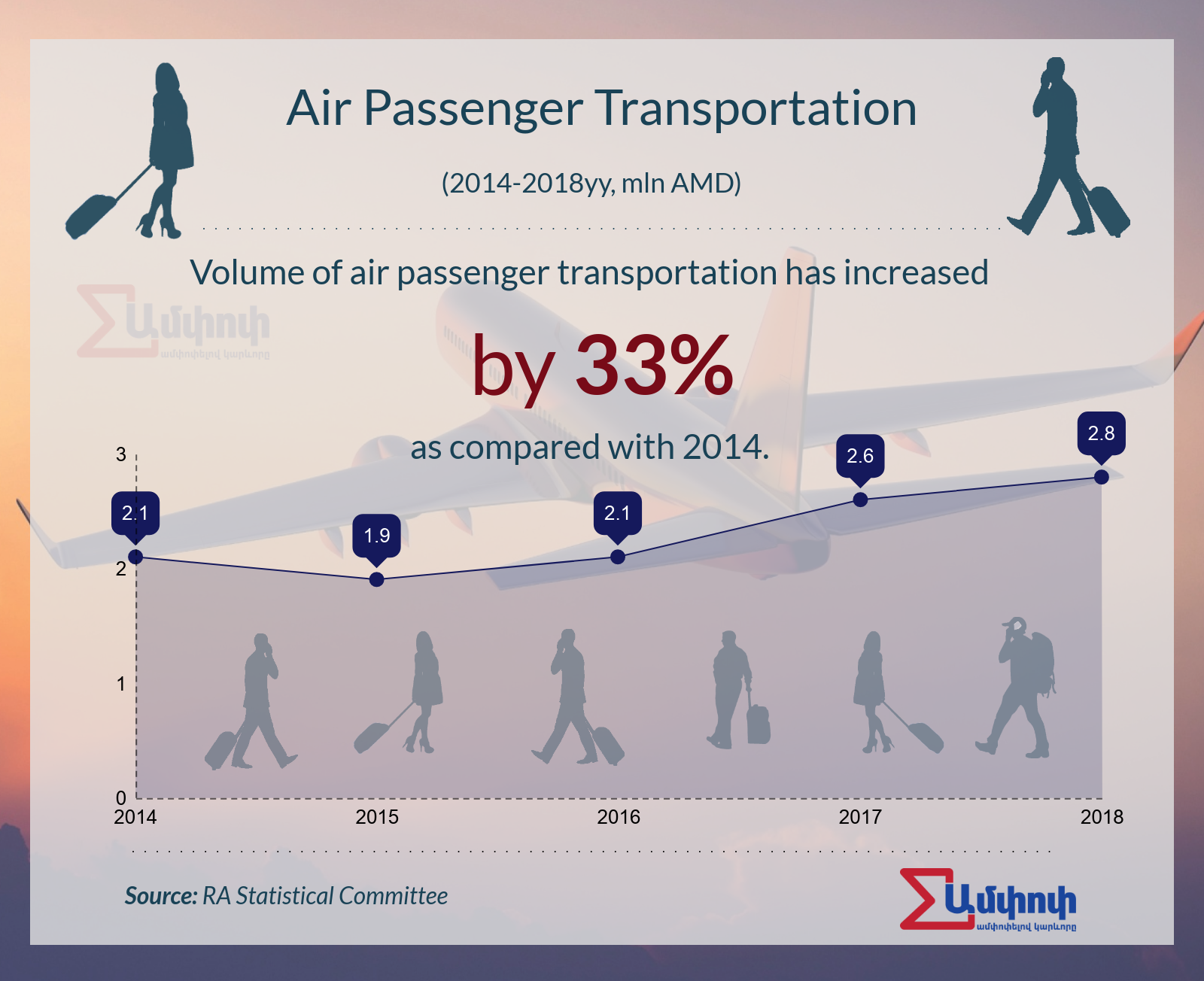 Economist and RA former Prime Minister (1993-1996) Hrant Bagratyan referred to open skies policy noting that the open skies policy was implemented by RA government (ed. 2012-2013) hastily and without preparations.
"As a result, foreign airlines get non-discriminatory regime in Armenia, while Armenian airlines are not provided with such a regime. Our airlines should have the same rights. That was not a reform, but self-flagellation," says Bagratyan.
Referring to the exit tax of individuals by air, Bagratyan points out the following: "Existence  of a tool in country which has only air transportation is unclear. Why should aviation be taxed in this case? …"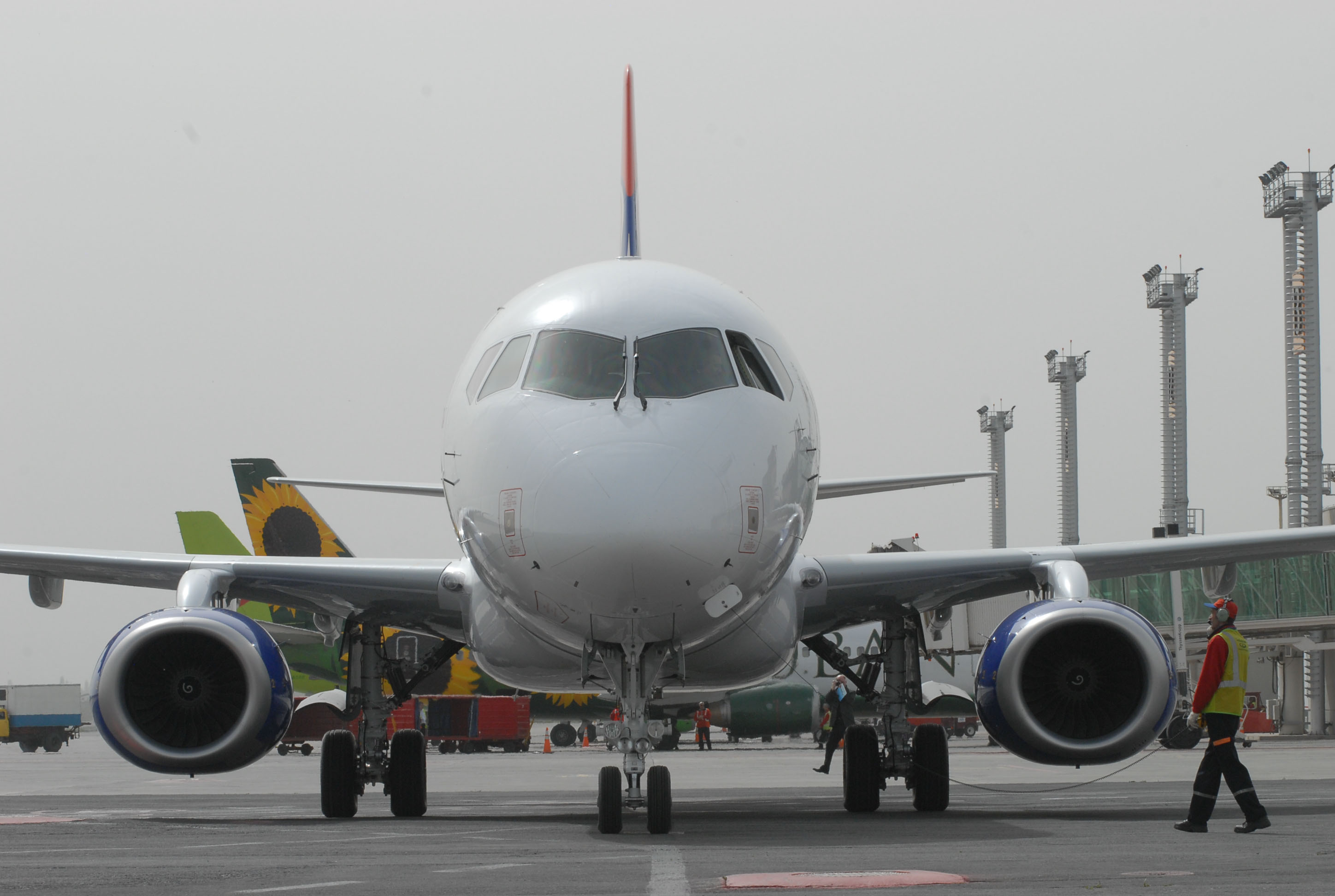 Why there are no low-cost flights?
Negotiations on signing the general aviation agreement with the European Union (EU) started from March 2017. Tatevik Revazyan, head of RA Civil Aviation Committee in the interview with Ampop Media says that access of low-cost flights into Armenia is directly linked to signing of the above-mentioned agreement.
"As there is no general aviation zone, low-cost airlines have to negotiate with each member of EU to make flights from Armenia. While the agreement will allow to avoid this process and provide free access for low-cost airlines," says Revazyan.
She is hopeful that the agreement will be signed till the end of 2019. According to her, this process is being postponed because of a number of factors, which anyhow refer to domestic policy of EU and have nothing to do with Armenia. During her business trips Revazyan had meetings with Easy Jet, Ryanair and Wizz Air airline companies, which are willing to come to the Armenian market.
International air companies and Local airlines
There are 3 operational airports in Armenia: "Zvartnots," "Shirak" and "Erebuni". The majority of air passenger transportation is carried out at "Zvartnots" airport, the official website of which states that it is implemented by 26 airlines. Three of them are low-cost airlines – Air Arabia (United Arab Emirates), Air Cairo (Egypt) and SkyUp (Ukraine).
One of the local airlines – "Armenia Aircompany," is making flights in four directions: Mineralnye Vody, Voronezh, Tel Aviv and Tbilisi.
Georgia has 3 operating airports in Kutaisi, Batumi and Tbilisi. 47 air companies make Georgian air passenger transportation, 9 of which are low-cost: ATA Airlines (US), Air Arabia (UAE), Air Cairo (Egypt), Flynas (Saudi Arabia), Jazeera Airways (Kuwait), Pegasus Airlines ), Pobeda (Russia), Salam Air (Oman) and SkyUp Airlines (Ukraine). Georgia has two local airlines – "Georgian Airways" and "Myway Airlines." "Georgian Airways" is operating flights in 16 international directions: London, Tel Aviv, Kiev, Moscow, Yerevan, St. Petersburg, Barcelona, ​​Bologna, Prague, Brussels, Berlin, Bratislava, Kazan, Paris, Amsterdam and Vienna. "Myway Airlines" is making flights in 3 international directions: Zhukovsky (RF), Kuwait and Tel Aviv.
So the above mentioned states that after adopting open skies policy, Georgia has a considerable activation in the airline market, unlike Armenia. Although both countries have an equal number of local airlines, "Georgian Airways" has a rather large geography compared with two Armenian airlines.
RA current Government in the aviation field assures that does not adopt former thesis of national airlines. Still on April 22, RA PM Nikol Pashinyan talked about this at the meeting with students and academic staff of YSU Faculty of Economics and Management. He said that having local airlines is of strategic significance, but the government is not planning to create an airline and give it a national airline status.
As regards national airlines, head of Civil Aviation Committee thinks that "it is not correct to spend a huge amount of money for having and protecting a national airline: as a result planes will fly empty."
"I would like to have a local airline, which will be able to compete in the 21st century and will know limitations, opportunities and new approaches in this field," says Tatevik Revazyan.
Article by Arpi Avetisyan
Infographics by Gayane Melikyan
Translated by Mary Grigoryan
Responsible Editor Suren Deheryan
For Armenian original CLICK HERE
© The copyright of stories and visualizations on Ampop.am belongs to "Journalists for the Future" NGO. It is forbidden to use Ampop's content and images without active hyperlinks to the source website. Uploading of infographics and images of Ampop.am is possible only in case of an agreement reached with JFF.