According to "Travel & Tourism Competitiveness Report 2019" of the World Economic Forum, Armenia has improved its rank by 5 points to the 79th position. Booking.com, known for hotel and B&B booking, included Yerevan in the 10 top trending destinations for 2020.
In the first half of 2019, the number of tourists increased by 12.3% or by 84 thousand compared to the same period of the previous year.
In the middle of this year, the number of tourists staying at hotels has increased significantly. As Nikol Pashinyan, Prime Minister of Armenia, stated in his "100 facts" during a press conference, tourists spent $200 million more in January-August of this year than in the same period of the previous year. A tourist spent $880 in a day in Armenia, compared to $730 spent in 2013.
Taxes paid by hotel businesses have also increased by 38% or by 1 billion drams, as well as taxes paid by tour companies increased by 53% or about 400 million drams (about $839 million).
According to the Statistical Committee of the Republic of Armenia, the majority of tourists traveling to Armenia are from EU countries – 25%, followed by Russia- 24%.
There is an active influx of tourists, especially from Russia, Germany and France in the first half of this year,  compared to the first half of 2018. However, the number of tourists from the US, Iran and Georgia has decreased.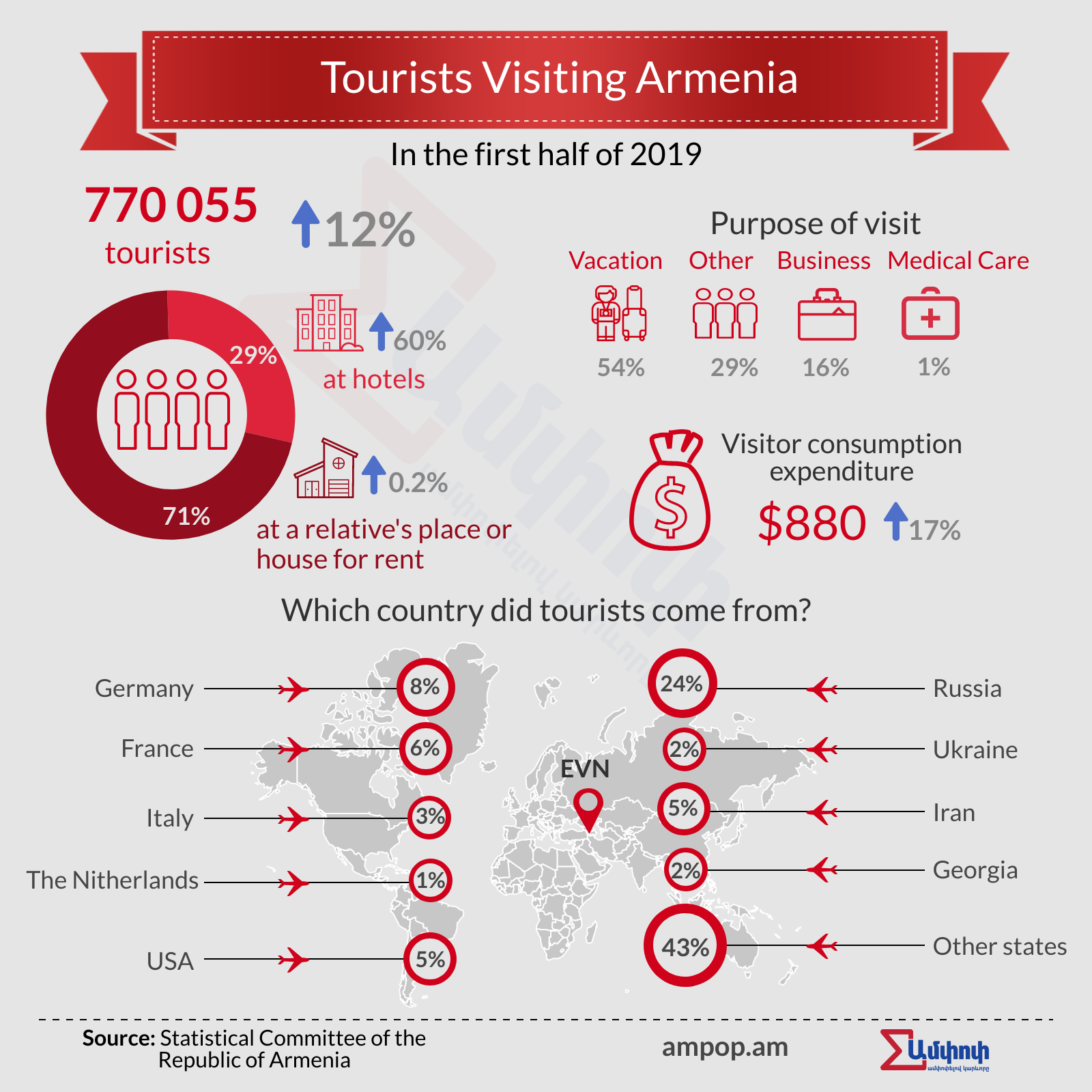 This article is part of a series entitled "Economy and Society in the Regions of RA"
For Armenian original CLICK HERE
© The copyright of stories and visualizations on Ampop.am belongs to "Journalists for the Future" NGO. It is forbidden to use Ampop's content and images without active hyperlinks to the source website. Uploading of infographics and images of Ampop.am is possible only in case of an agreement reached with JFF.