The doors of the hospital elevator open, and on the right side there is a large lettering – "Dialysis Halls." The sign is posted above the white door, next to which a beautiful 40-45-year-old woman in blond hair is sitting. She is absorbed with her eyes on the floor of the corridor.
The lady is waiting for her husband. She has been accompanying him to the hospital for 1.5 years for dialysis.
"I was ready to donate to my husband but my kidney did not fit. Her brothers have different disease and they cannot be donors either," the lady says and then adds, "We look forward to the Minister finally making a decision on corpse donation."
She is referring to the intention of Arsen Torosyan, Minister of Public Health, to develop deceased donor transplantation in Armenia. Minister Torosyan believes that the use of the organs of the dead will save lives.
Not all the patients are interested in this idea in hospital dialysis halls. One of the dialysis patients who was receiving dialysis for three consecutive hours, said he was no longer interested in any decision.
"I don't want a transplant anymore. My kidney was transplanted 8 years ago. It didn't work out even for a year otherwise I would not be here," he says.
Another man lying on the next bed in the same room, who was quietly following this conversation, said in a barely audible voice, "I've been here since 2014, we didn't find a donor."
According to Helen Nazaryan, an advisor to the RA Minister of Health, a nephrologist, about 1,000 people today receive dialysis in Armenia. Each receives about 153 sessions a year, with an average of 13 sessions per month.
The cost of such a session or one day is 18 100 drams (about $38) which is fully funded by the state. According to simple calculations, more than 2.77 billion drams (about $5.9 million) are allocated from the state budget only for dialysis.
What is hemodialysis and why is it needed?
There are chronic kidney diseases, the final stage of which is chronic kidney failure, when the kidney is no longer able to perform its function. At this point there is necessity to receive a kidney replacement therapy.
There are three types of therapy in the world, the most ideal of which, according to doctor-nephrologist Helen Nazaryan, is a kidney transplantation, as in the other two cases, the processes of dialysis and peritoneal dialysis are ongoing.
"The advantage of the transplantation is that it resolves the previous health problems with the kidney, the person does not have to go to the hospital three times a week, as dialysis recipients do," Dr. Nazaryan, Head of Hemodialysis and Kidney Transplant Department at the Arabkir Medical Center, told "Ampop Media"․
If a kidney transplantation is not performed, the patient should receive dialysis throughout life. Peritoneal dialysis is a lighter option because the blood is cleansed throughout the day with special fluids injected into the abdominal cavity. This option is not implemented in Armenia. It is available only in the USA and Europe.
It is possible to get dialysis in Armenia in 13 centers, 5 of which operate in Yerevan and the rest are in provinces. Another center operates in Stepanakert.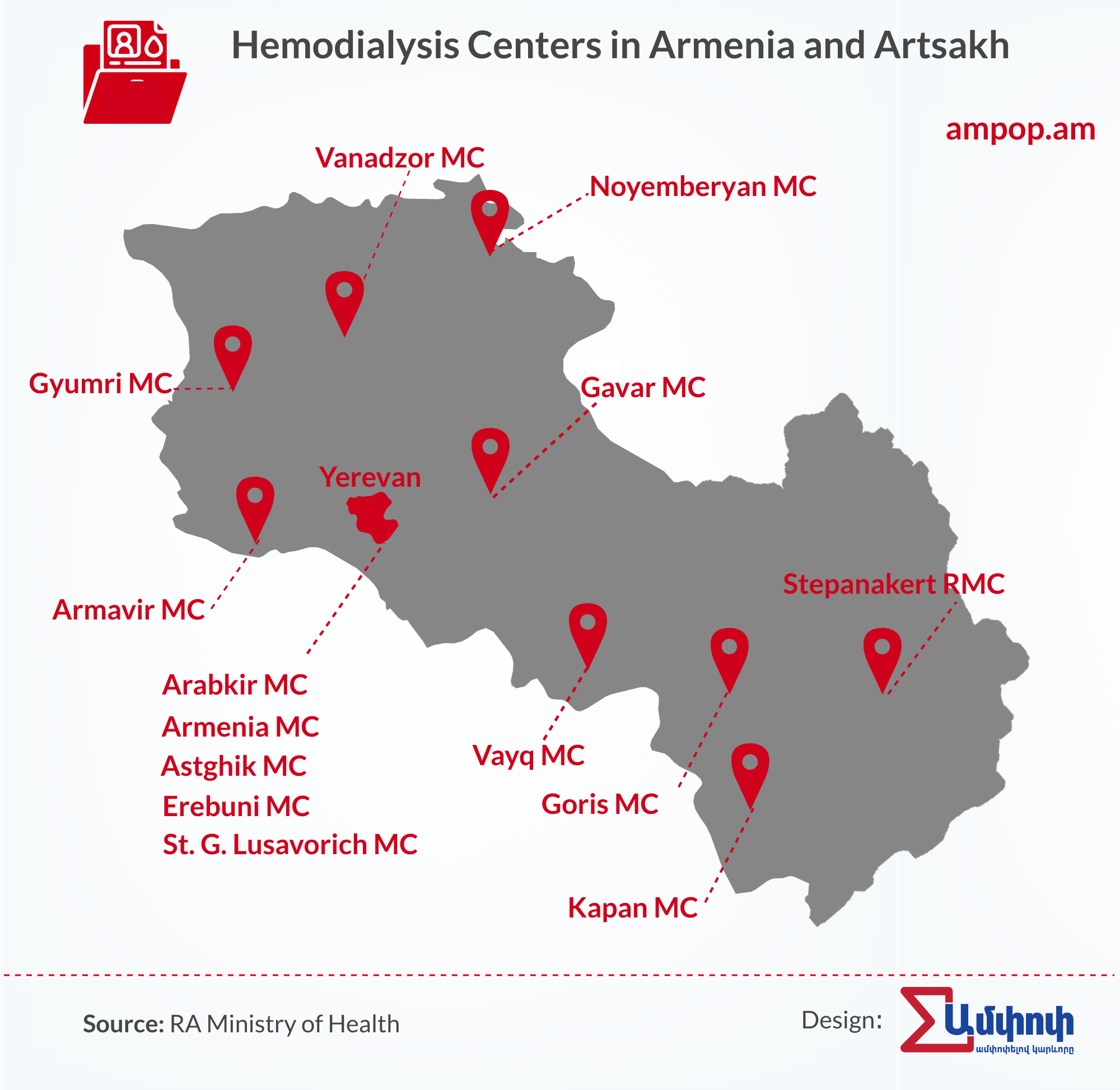 According to Dr. Nazaryan, kidney transplantation in Armenia is carried out only at Arabkir Medical Center and only from living donors. But even in this case, the kidney transplants work for a maximum of 10-15 years. According to the doctor, unfortunately, the same person may have to return to dialysis or peritoneal dialysis.
Legal Grounds for Donation
The legal grounds for transplanting human organs and/or tissues in Armenia, the rights and obligations of donors, recipients and medical institutions are regulated by the RA Law on Transplantation of Human Organs and/or Tissues.
This law was adopted in 2002, and was amended in 2009.
In addition, the decision of the Government of the Republic of Armenia adopted in 2007 sets out the list of organs and/or tissues that are to be transplanted. And although the list consists of 14 points, only kidney transplantation is carried out in Armenia, besides the two cases of liver transplantation first at "Astghik" and then at "Arabkir" medical centers, which were carried out in Armenia in collaboration with Russian and Belarussian partners this year.
By comparison, Turkey, which has the largest number of transplantations in the region, including European countries, has carried out 4710 transplants in the first ten months of this year, with 75% of the organs transplanted from living donors and in the rest cases from deceased donors.
In the case of Armenia, even if the centers for transplantation are set up with highly qualified specialists, the problem will not be resolved as there are no donors. There is insufficient awareness of donation, and consequently, there is a lack of sufficient consciousness of becoming a donor both during life and after death.
Around 2 million people in the world, including hundreds of RA citizens, are scheduled for organ transplant. Unfortunately, about 10% of them die each year, failing to achieve their turn.
How can one become a donor?
Dr. Nazaryan says that for people who do not have a living donor, a deceased donor is like a dream. However, she notes that there is a misconception among the public about this issue.
"Organs are not removed from the morgue. If there is no blood in the tissues for a while, those organs become useless. Organs are taken when a brain death is fixed, which is equivalent to the death of a human organism," says Nazaryan.
The activities of vital organs, such as the heart, lungs, are preserved with medication, and are operated by an artificial respirator. Technologies abroad are so advanced that even if death occurs due to a heart attack, it takes one to five minutes to remove the organ.
There are 2 forms of deceased donors in the world in general: informed consent and presumed consent. In the case of informed consent, the person during his/her lifetime agrees that after his/her death, the organs can be used for transplantation.In the case of presumed consent, if the person does not refuse, he or she will automatically be considered a donor after death. Only in some countries relatives may be asked for permission.
"The first option works in almost 80% of the European countries and the second option in the USA. The two cannot act together. In addition, both living-donor and deceased–donor transplantation are free for citizens of any European country. Only citizens of other countries pay for about 40-100 thousand euros (about 21-53 million drams)," says the nephrologist.
It can be stated that the RA Law on Transplantation of Human Organs and/or Tissues is in favor of "presumed consent". In particular, Article 7, that is the precondition for an agreement on the removal of organs and tissues from deceased donor, states that the organs and tissues of a deceased for transplantation may not be removed only if the person has refused to act as a donor after death in the manner prescribed by the legislation of the Republic of Armenia.
Dr. Nazaryan has no clear answer on how much the Armenian society is ready for deceased-donor transplantation. "Some may be ready, others are not yet aware," she says.
But she also adds that there should be a law, and after being informed, some may refuse but there will be people who will agree.
Article by Sofi Tovmasyan
Infographics by Gayane Melikyan
Editor: Suren Deheryan
This article is part of a series entitled "Economy and Society in RA Provinces".
For Armenian original CLICK HERE
© The copyright of stories and visualizations on Ampop.am belongs to "Journalists for the Future" NGO. It is forbidden to use Ampop's content and images without active hyperlinks to the source website. Uploading of infographics and images of Ampop.am is possible only in case of an agreement reached with JFF.