Marriage is declining in Armenia while divorce is on the rise, according to the RA Statistical Committee (formerly National Statistical Service) report issued in 2017. Those who do choose to get married are waiting longer to take the plunge.
Since 2010, marriage rates have fallen by 15% whereas divorce has increased by 31% in the same period. Divorce is particularly common for couples married more than 20 years, and many couples often fall apart in the first four years of marriage.
In the period 2010—2017, the average age of brides and grooms has risen too. The average bride today will be 26, as opposed to 25 in 2010. Her groom is now mostly likely to be 30, instead of 28.
In 2017, the largest number of marriages in Armenia was registered in Yerevan – 6204. Divorce seems particularly common in Lori region. 517 of last year's 3940 divorces nationwide were registered in Lori.
Of 3648 divorces registered in 2016 at least 776 divorced couples had 1 child while 1106 couples had 2 or more children. The rest of the divorcees (1766 couples) did not have children.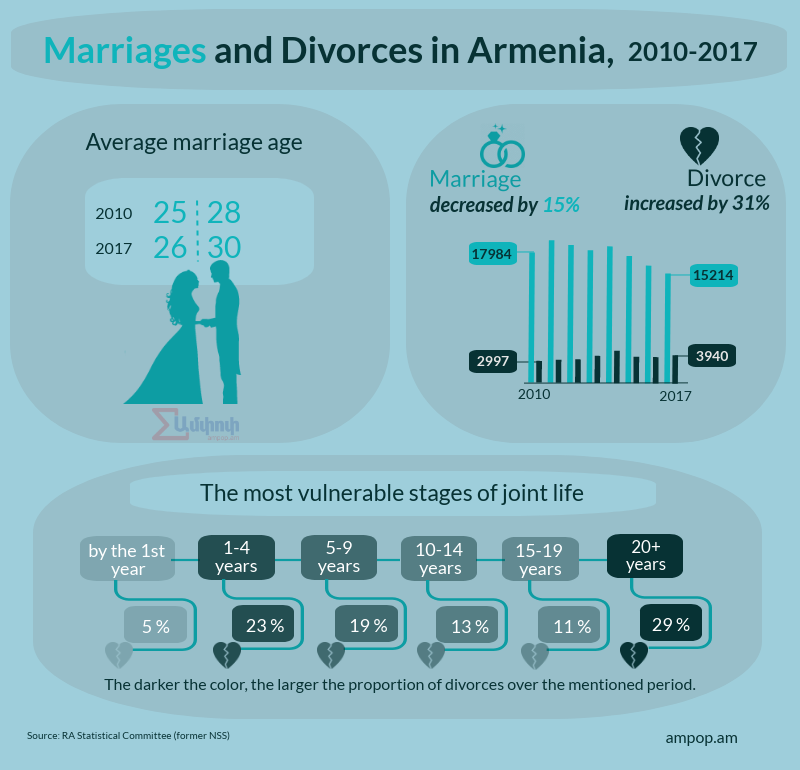 Data Collectors: Mariam Arakelyan, Tatevik Hovhannisyan, Nare Aslizadyan
Summed up by Karine Darbinyan
This publication is part of the "Open Data Key for CSO" project, implemented by the support of the American people, through the United States Agency for International Development (USAID), under the "CSO DePo: CSO Development Program". The project partner is the Eurasia Partnership Foundation.
ATTENTION © The copyright of stories and visualizations on Ampop.am belongs to "Journalists for the Future" NGO. It is forbidden to use Ampop's content and images without active hyperlinks to the source website. Uploading of infographics and images of Ampop.am is possible only in case of an agreement reached with JFF.