Lilith Balabekyan is the third daughter of the family. She says that during her mother's 9-month pregnancy, doctors assured her that she would have a son. The parents and sisters had already decided a name; they were expecting Arman but Lilith was born.
expecting Arman but Lilith was born
"My mother tells me that on my birthday, my sister went into the hospital room of infants, approached the boy lying next to me and hugged her, and when she found out that a sister had been born, she did not even approach me," 22-year-old Lilith says.
At first, the family was disappointed, and friends of Lilith's father called the third daughter the "father's son" to "relieve" the situation.
"Now, my parents have overcome it. I think the only problem was that they had been expecting a boy for nine months. I have never felt that I am not expected or loved. Now my parents think they do not need a son. No children were born in my family after me," she adds.
Lilith (in the center) with her elder sisters
Lilith, a student at the Department of Art Management at Yerevan State Institute of Theater and Cinema, staged a performance on the topic of sex-selective abortions as a diploma work.
She says that such a decision is related to her personal story. The stories in Lilith's performance called "She Has a Story" reveal the dark and sad sides of reality.
The two-part performance features stories of five years: the late 90s, the early 2000s. The first is the picture of the family, the other is a monologue.
"The performance is about three girls who were born; one is my story … We even have an episode when a child depicts the scene of the abortion,"Lilith says and then keeps telling, "The woman was pregnant, she expected twin girls, the fetuses were big, and as the law forbids to do abortion in the cases of more than 12-week pregnancy, she tried herself to take measures to abort. She tried to harm herself with a knitting needle but failed. When the girls were born, one of them had a scar on her face."
A frame from "She has a story" performance
tried to harm herself with a knitting needle but failed. When the girls were born, one of them had a scar on her face
Lilith noted that most families in the province of Gegharkunik have sons. A woman said that the boys went abroad to work and many did not return because there were very few girls in the region, so they stayed there and married a Russian or another national.
Lilith's performance was staged both in Yerevan and Gavar. She desires to stage it in all the regions but the regions that have high rates of selective abortions are a priority.
Alarming Statistics
"Every year more than 1400 girls are not born in Armenia. By 2060, almost 93,000 girls will not be born in Armenia if the tendency of sex-selective abortions or sex selection until childbirth remains unchanged," it is said in the Report on Public Inquiry into Enjoyment of Sexual and Reproductive Health Rights in Armenia prepared by UN Population Fund in 2016.
Statistics show that sex-selective abortions are particularly common in the regions. There are many cases where women abort a baby girl under the pressure of family members or are -guided by the slogan "the family smoke should keep burning". However, it is still difficult to pinpoint exact numbers as most stories remain within the walls of hospitals or dark rooms of home.
Yet on July 7, 2016, a decision was made to amend RA Law on "Reproductive Health and Rights to Reproduction", in particular according to Article 10 of this Law: "Every woman has the right to abortion, abortion, out of medical and social reasons developed and regulated by state authority, including during the period of 12-22 weeks of gestation, is prohibited."
At the same time, administrative liability and fine have been provided for cases of breach of the requirements established by the law in the process of abortion, which is permitted by the legislation.
Woman's condition before and after abortion
"The womb has a memory," psychologist Anna Badalyan said. "After the unborn baby, the womb holds the memory of the destroyed fetus for a long time. Of course, the causes of abortion are different but even if the reason is an unhealthy fetus, the outcome can be traumatic, where else in the cases of unwanted pregnancy or sex-selective abortion."
The psychologist is convinced that few women can have ordinary and calm attitude to abortion.
"They sometimes have internal conflicts and feeling of guilt."
The psychologist says that many women give birth to a second child to overcome it and try to remove the bad memories left over from a previous pregnancy. But of course, if a woman is very emotional, she will live with that feeling for a long time, and often this can lead to an extreme situation when her guilt begins to grow so much that she also loses maternity and psychological sense.
She says there are cases when woman's needs and feelings have faded.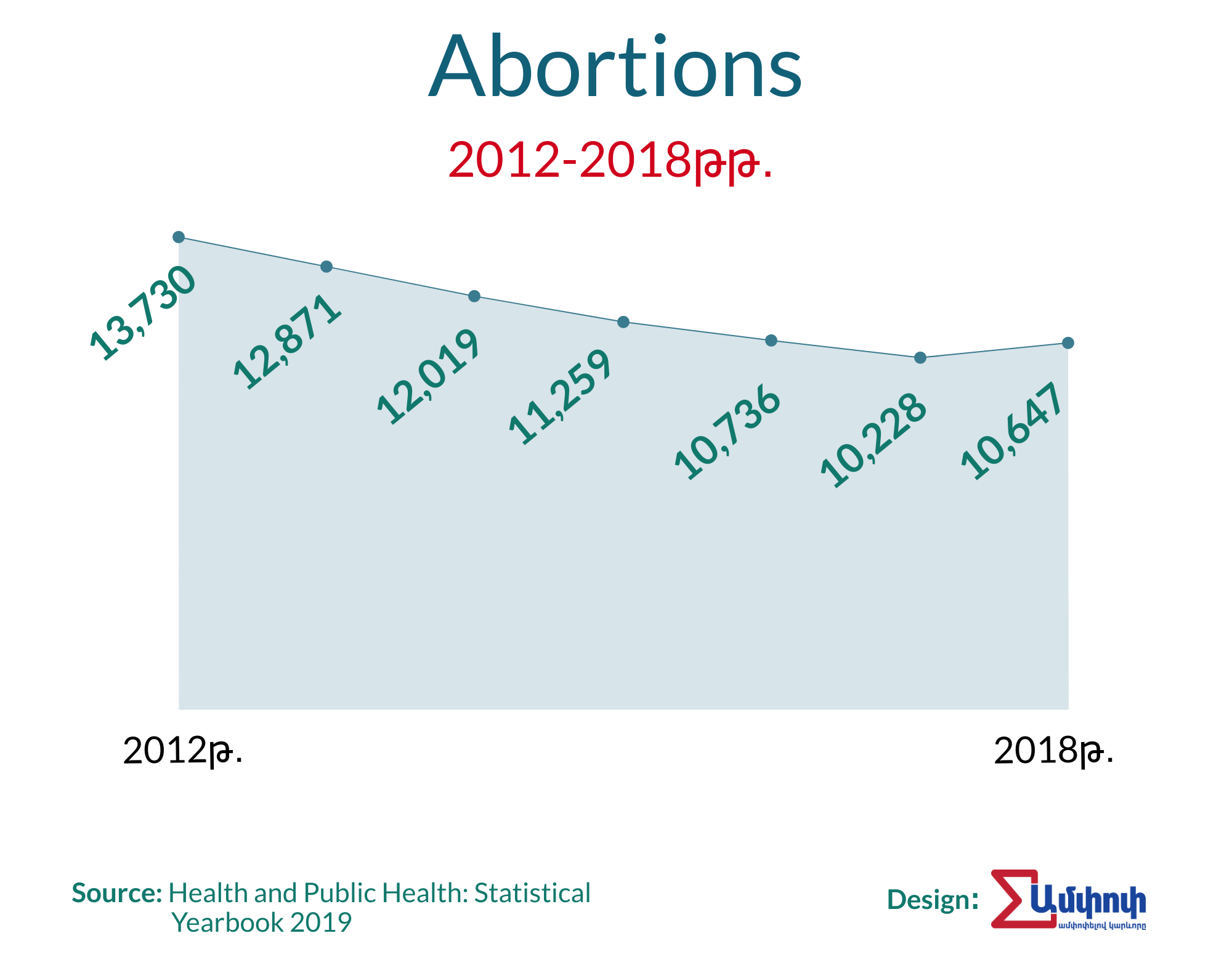 Gynecologist Ofelia Dashyan adds that in any case, neither medical nor instrumental abortion is recommended, since it can lead to a number of health problems: bleeding, inflammatory processes, secondary infertility, that is, the blood can get accumulated and flow back to the fallopian tubes which become obstructed. There may also be hormonal disorders.
Doctor Dashyan says women often do not even get to medical establishments. They apply any kind of method at home to get rid of the fetus.
According to UN Population Fund Report of 2016 on "Public Inquiry into Enjoyment of Sexual and Reproductive Health Rights in Armenia", nearly 20 million unsafe abortions occur worldwide each year. This results in the deaths of 47,000 women worldwide and complications leading to a disability of another 5 million.
Both the psychologist and the gynecologist are convinced that a psychological approach is needed.
"It is important that as a result of professional consulting a woman is able to properly manage her emotional ups and downs. Specialists talk and discuss with women, conduct situation analysis with them and so on. But the final decision is up to the woman," the psychologist says.
For the sake of equality
Such discussions have been held for several years within the framework of "Caring for Equality" program of World Vision Armenia.
Sevan Petrosyan, Project Manager, says it was already clear at that time that the statistics in Armenia were not only demographically problematic but also a way to see examples of gender inequality and discrimination in the country, such as selective abortion.
"It is also a form of violence, in fact," Petrosyan says.
The project viewed selective abortions as less respectful attitude and norm towards women and girls. And it was decided to target not only selective abortion but the underlying causes that lead to the phenomenon. For example, a boy's preference for a child that comes from gender inequality and discrimination. The organization later decided to launch a public campaign called "Different and Equal."
"We are not the original authors of this headline because it can be viewed differently, for example, in terms of racial discrimination. The point is that although people can be different, in this case, women and men, based on their sex and gender roles that are shaped by society, culture, traditions, and norms, they must be equal not only legally but also have really equal rights to live, to create and to express themselves" Petrosyan says.
In addition to its head office in Yerevan, the organization has 14 branches in 6 regions of the republic. Twelve of the branches have already implemented and continue to implement the program, targeting families living in communities.
Petrosyan says that for the first time an attempt was made to discuss gender issues and implement the program with men because they are a very strong group enforcing gender norms.
"It is not possible to expect change in society, especially on such a deep-rooted, sensitive issue, leaving out a group of men," he says.
The project comprises community groups that hold 14-week meetings and talk about gender stereotypes and violence, parenting, the importance of sharing child care and household work. Parents, young boys and girls participate in it.
"We have tried to present these stereotypes cautiously and to targeted groups. For example, gender-negative norms that harm women and girls. We have shown the abilities of a girl child and that she also has rights and can take advantage of them" says Petrosyan, noting that the programs will be ongoing. The accumulated experience will not be wasted.
Change is difficult but it will be and it should be.
Article by Sofi Tovmasyan
Photos from Lilit Balabekyan's personal archive
Data development and design by Gayane Melikyan
Editor: Suren Deheryan
This article is part of a series entitled "Economy and Society in the Regions of RA"
For Armenian original CLICK HERE
© The copyright of stories and visualizations on Ampop.am belongs to "Journalists for the Future" NGO. It is forbidden to use Ampop's content and images without active hyperlinks to the source website. Uploading of infographics and images of Ampop.am is possible only in case of an agreement reached with JFF.