Most kindergartens in Armavir region work at its three, main towns, which are Vagharshapat, Armavir and Metsamor. According to 2017 statistics, 23 out of 54 working kindergartens in this region are located in those communities. There are kindergartens in 51 other communities of the region, out of which 18 are either in renovation or closed due to the unstable state of the building.
The lack of kindergartens leads to lack of preschool education by around 25% of children in Armavir region.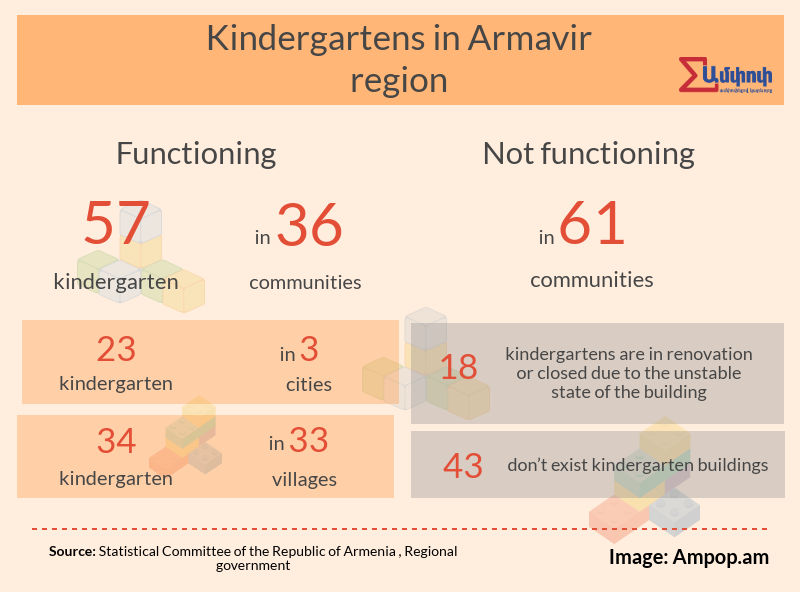 The situation
According to article 23 of RA law, all children have equal right to receive preschool education in Armenia.
Kindergarten attendance assists in child's comprehensive and harmonious development as well as socialization.
State policy implementation of preschool education is the responsibility of the local self-government bodies. They should make effort to ensure that all kindergartens are accessible, affordable and suitable in all criteria. The local self-government also implements an accounting on preschool-aged children.
According to the 2017-2018 statistics of the regional government, Armavir region had in total 5000 children attending kindergarten.
"Ampop Media" requested a survey to check the amount overload and terms of working kindergartens.
The questions included the workflow, the amount of attending children, salary and the number of children who do not have kindergartens in their region.
As a result, "Ampop Media" got a response from 35 communities out of 97, where the age range population of 3-5 year-old children exceeds 3206. According to the result, only 16 out of 35 communities have functioning kindergartens.
19 out of 35 community kindergartens either are closed or don't exist at all. Moreover, the observation showed that the function of kindergartens is not based on the number of children. For instance, Norapat community of the region has 86 children aged 3-5 and its kindergarten work throughout the year, while Aghavnatun community of the same region has 123 children of the same age, but has no kindergarten.
There are communities, where the child population visits a neighboring community to attend kindergarten. For example, 16 children of Khanjyan community visit the kindergarten of Armavir city, which is around 10 km away from their community. Meanwhile, parents from Araks community go through 6-7 km to take their children to a kindergarten in Arevadasht or Sardarapat community.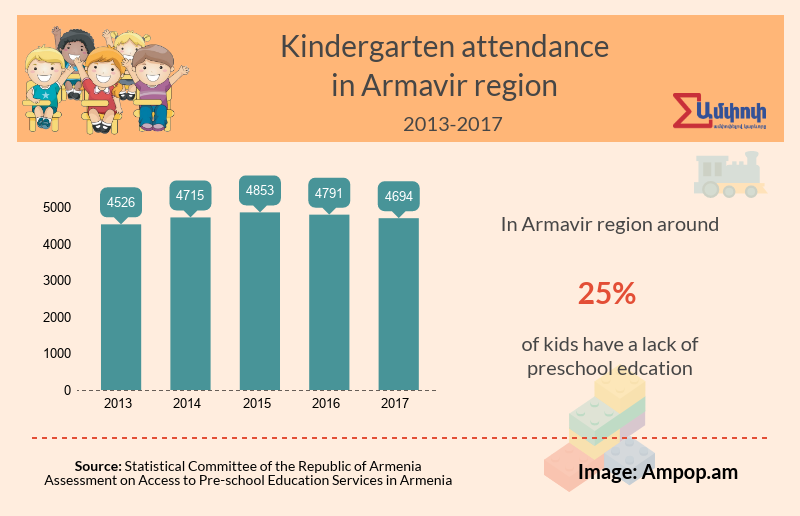 Besides kindergartens, there are 44 preschools near regions, which is organized and financed in the frames of a project by World Bank in collaboration with Ministry of Education "Center of Education Projects". Unlike kindergartens, preschools are SNCOs, meaning they are under government subordination and are financed by the state budget, while also receiving investment from parents and the community.
The presence of preschools depends on its role. Preschool attendees can be children aged 4-5. It's also worth mentioning that 5-year-olds fee is covered by the project, while 4-year-olds attendance costs 5000 AMD per month. According to the Statistical Committee, in 2017 preschool had around 1360 children.
"Because kindergartens belong to communities and are not under government subordination, it is more rational to have preschools in regions that do not have kindergartens, as they will also have financial coverage," says the Armavir's local government education department head Naira Sargsyan.
According to her, the World Banks has come up with another project regarding new preschool openings.
"So far it's just an idea, as starting a new preschool depends on the number of children suitable building conditions," says Sargsyan.
According to her, 2018 is when the regions are being chosen, the following will be the implementation. The local government official states that the preschool opening will most likely be in September of 2019.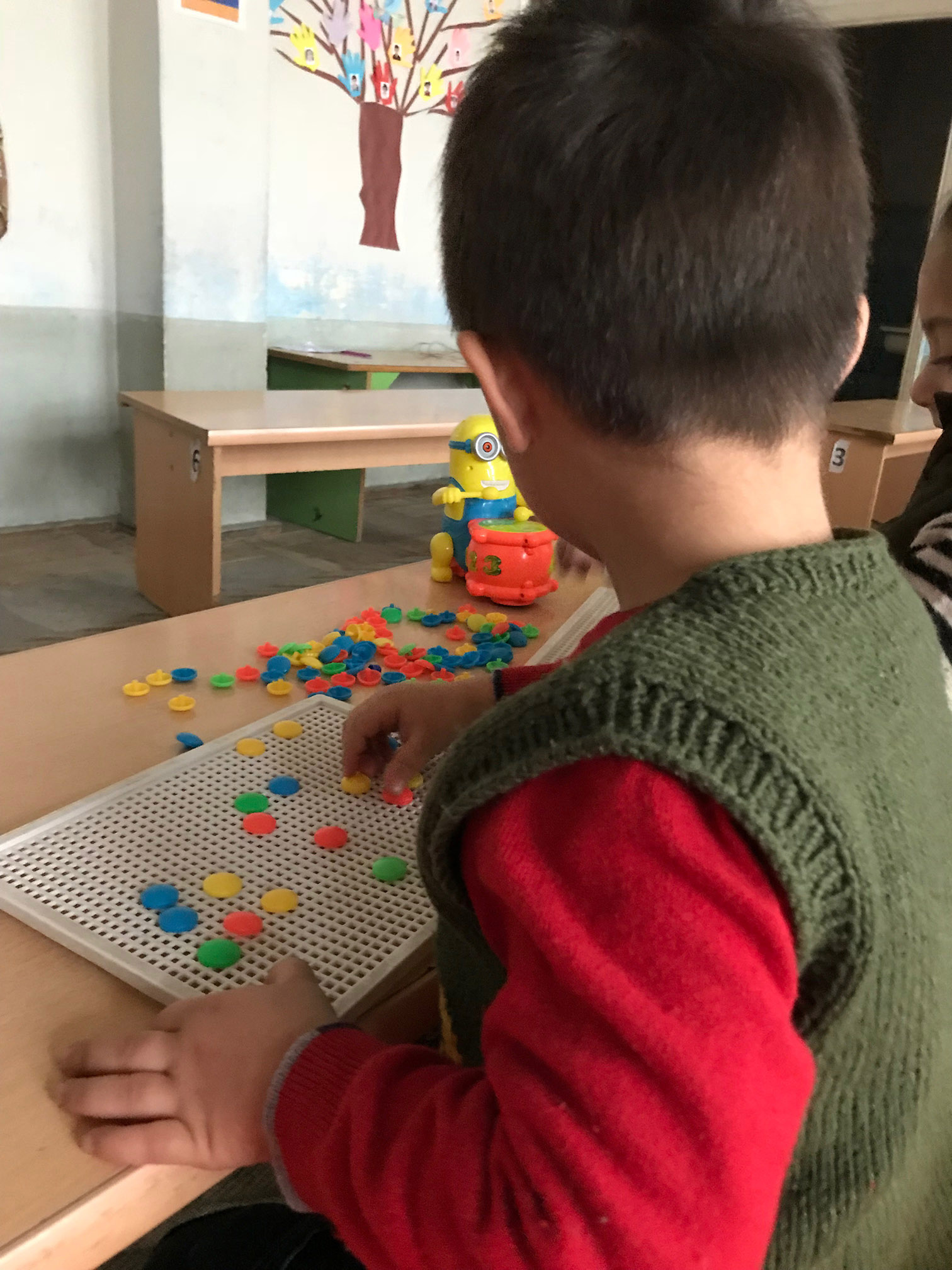 Unlike kindergartens in Yerevan, which are all open throughout the year, kindergartens in regions are limited to 5-10-month workflow. The main reason is the lack of resources – heating, the unfavorable condition of buildings.
Unlike others, 12 kindergartens in Armavir region are almost always open since April 1st after the winter break.
One of the attendee's parents, who preferred to stay anonymous, informed "Ampop Media" that the food was not so good before, as they didn't pay for the firewood, however the recent changes have gone to better – the food quality has changed, there's more variety of meals, and the firewood was provided by the town hall.
According to the representatives of Armavir town hall, 12 kindergartens, which are under their subordination, cost 7000 AMD. Each child's daily meal costs 320 AMD. To this amount adds building protection and employees' salary, which is made not only through kindergarten payment, but also from community budget.
Margar Margaryan, "Youth Avant Garde" NGO co-founder project implemented is implementing a project in one of the 12 kindergartens of Armavir. He informed "Ampop Media" that all 12 kindergartens of the city are in good conditions, out of which 3 are kindegartens number 3,4 and 10.
According to him, those are renovated and include a heating system. They have the same fee as the non-renovated once, as the subsidized share is higher than the community budget.
All 12 kindergarten buildings are small, not enough for a big number of children, which minimizes the costs of keeping it sleek. Moreover, some of the kindergartens are closed to shutting down. The explanation to this is that shutting down one kindergarten and opening a new group in another one requires less resources, rather than keeping an entire building with its costs.
Seasonal Kindergartens
Around 54% of Armavir city kindergartens are seasonal. According to the survey, throughout the year they function for 4 months or more. There are very limited kindergartens that function all year round. Those belong to Norapat and Parakar communities.
According to "Asparez" journalists' observation, the main reason of kindergartens shutting down is the heating payment, lack of resources or wrong payment planning.
A part of food and heating system payment is taken from the pledge. The fee for one child is from 3000-7000 AMD depending on the number of groups. The fee for local community children and neighboring community children are the same as well.
Kindergarten attendees also have privileges, which varies in each community. For instance, if three children from one family attend the same kindergarten, they get 50% discount for each child. Orphans attend kindergartens for free. Privileges also apply for people of certain social backgrounds.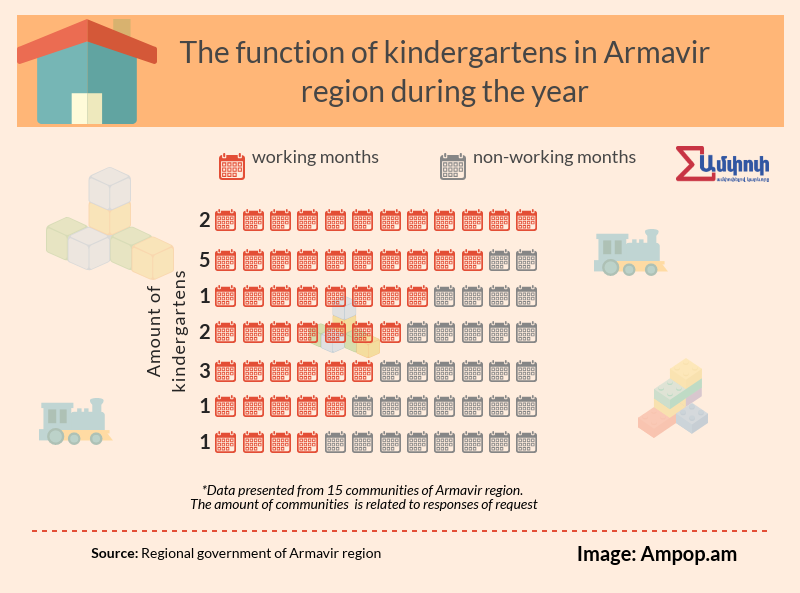 In Fact
Kindergartens belong to the community (community NGO). Regarding the local self-governance, article 34 of RA law states that the community head is responsible for implementing all projects under its subordination, including kindergarten functions, realization of their construction, operation and renovation work.
The main necessities of kindergartens are covered by the community budget. As the budget is accessible to everyone, so is the payment to kindergartens. In some communities the community budget is spent on food, heating system, hygiene products, while in other communities that amount of money is lacking to even renovate the building. The renovation of building is possible through benefactors, fundraising, foundations and other competition projects.
By Susanna Matinyan
Infographics by Astghik Gevorgyan
Responsible editor: Astghik Gevorgyan
Read also
ATTENTION © The copyright of stories and visualizations on Ampop.am belongs to "Journalists for the Future" NGO. It is forbidden to use Ampop's content and images without active hyperlinks to the source website. Uploading of infographics and images of Ampop.am is possible only in case of an agreement reached with JFF.